"Hands down, one of the best records in years.
  It's layers of moods and textures will overload your senses."         
— Eddie Fleisher, ALTERNATIVE PRESS.

"Metaform takes the listener on an audible journey that few other producers are capable."  — Jason Kordich, JIVE.

"Cinematic and addictive, like DJ Shadow at his best." 
— Jim Tremayne, DJ TIMES.

Metaform (born Justice Aaron) is an independant music producer and songwriter from San Francisco, California. He currently resides in Tokyo, Japan, where he self-releases his work under Just Records. His work has been compared to Massive Attack and Tears for Fears, with his own brand of dark and sexy Electro-Pop.

Full bio on Wikipedia: 
http://en.wikipedia.org/wiki/Metaform
 

Please contact us if you would like Metaform to score your next movie, video game, or production.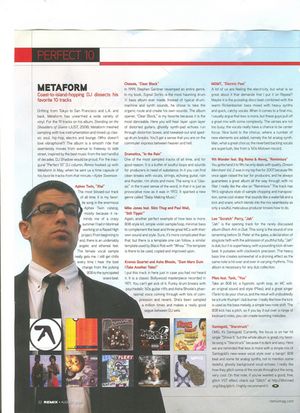 Or please email me here:
metaform@metaformonline.com